Last week , I had been tied up all days. In addition to regular doctor's visit for my parents , my wife got hospitalized. I had a much stress for caregiving.
I went grilled chiken bar (Yakitori-ya) for a break from the stress of caregiving.
I ate Kashira ( Pork cheek meat) and Siro-Motsu(pork stomach congee).
Even both meats are not chiken but we call these Yakitori(grilled chiken). I don't know why.
By the way these meats are only offerred by cheeper Yakitori-ya, Expensive Yakitori-ya don't want to offer. Kashira tasts like a beef, Siro-Motsu tasts like ,,?? I don't know.
But both cheeper meats make me relaxed.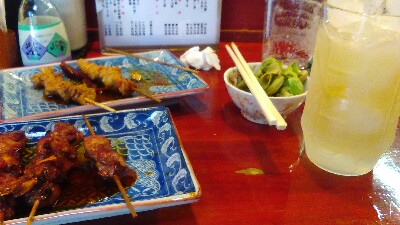 スポンサーサイト