この記事のタイトル weed は英語としては正しいのですが、複数形でない weed は一般的にはマリファナの事らしいです。 従って Weeds / Weeding とした方が良いとアメリカの方から指摘されました。日本で言う葉っぱみたいな物ですかね。それにしてもまさかマリファナと間違えられるとは びっくりしました。
Two days ago, it was cool when I woke up at 5:30.
I felt today was
the
best day to weed my backyard.
Low temperature and less mosquitoes helped
to easy to weed
me weed easily
So I made good progress with my work.
I finished
to weed
weeding
at 7:30.
After that I went
to a
golf driving range before taking shower.
I finished weeding at 7:30. I need to take a shower after weeding, but I went a driving range without taking a shower.
I was very supprized that many people were practicing golf before going to work.
When I returned
to my house from golf
from
driving range around 9:00 it was still cool. 
The n
N
ext day , it was also cool when I woke up at 5:00.
I completed
to weed
weeding
for all my backyard.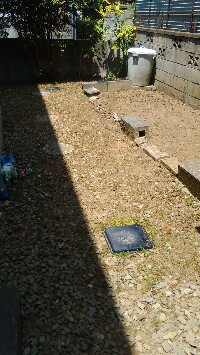 今回は日本人の方に添削してもらいました。 日本語も書いてますので、微妙なニュアンスも分かってくれてますので、解りやすい添削です。 あ~、でもこの位の英語のレベルになりたいなあ? もう歳なので、無理だとは思うけど、頑張り続けます。